St Mary's Church becomes Cheltenham Minster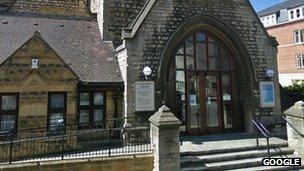 A medieval church in Cheltenham has officially become a minster.
St Mary's Church, hidden in the centre of the Gloucestershire town between Clarence Street and the High Street, held a service to mark the event.
It is now known as Cheltenham Minster. The church is thought to be the oldest building in the town, dating back to the mid-11th Century.
It is hoped that the honorific title will encourage and improve links with local shops, businesses and people.
The newly named minster is linked with St Matthew's Church in Clarence Street.
"This heart of the town is being redeveloped," said the Reverend Tudor Griffiths, the rector and rural dean of Cheltenham.
"We're working with the council very closely to develop the church grounds to make them more accessible and friendly and also to be part of a new route through the town linking the Brewery development with the promenade.
"It would be brilliant if this were to become known as the Minster Quarter."
The Right Reverend Michael Perham, the Bishop of Gloucester, said St Mary's is the first - and likely to be the only - church to become a minster in the Diocese of Gloucester.
"It's where you get a town of some significance, that isn't a cathedral city, where there's a church in the middle that is much more than a parish church," he explained.
"It has an opportunity to relate to the whole of the city, or the town. St Mary's in Cheltenham seems to me to fit that.
"It's absolutely ideally placed to be at the religious heart of the whole town, not just of its parish."
Related Internet Links
The BBC is not responsible for the content of external sites.