Anger over lack of M5 junction improvements in bridge repair scheme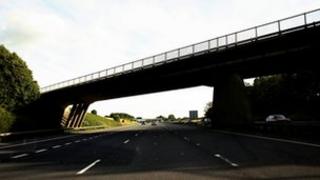 Businesses in Gloucestershire are angry that bridge repair work at junction 10 of the M5 does not include plans to to turn it into a four-way intersection.
Drivers are currently only able to join the M5 northbound or exit the M5 southbound at the Cheltenham junction.
The Highways Agency is carrying out £13m of repairs to the bridge in April and says it has no cash for other work.
Traders say the work is vital and should be done at the same time to minimise disruption.
The idea has also been backed local MPs and by the fire service, which says response times could be improved and lives saved by adding extra slip-roads.
It has been estimated that work to turn the junction into a four-way intersection would cost about £13m.
The bridge carries the A4019 - one of the main routes between Cheltenham and Tewkesbury - over the motorway.
A year-long closure of the junction for repairs was postponed in 2011 to allow time for the idea to be assessed.
Chairman of Gloucestershire Local Enterprise Partnership's Logistics Sector Group, Mark Ryan said the benefits that improving the junction would bring to the county as a whole is "far in excess" of the cost.
'Benefit to county'
He said: "The fact is that this junction is the only junction on the M5 which does not have four-way access. It is the last main junction that needs to be upgraded.
"So to bring that junction into a four way on and off system would benefit that area."
The Highways Agency says it does not have the plans or funding in place to change the layout of the junction.
Asset Development Manager, Andrew Page-Dove said: "It's not possible to do both at the same time.
"In order to take forward a scheme which we haven't developed to any final stage, and even if we had the money - which we don't currently, would take us more than two years to get to a point when we could put that on the ground."
Mr Page-Dove said ultimately it was a "ministerial decision" and should be considered as part of the Joint Core Strategy for the county.