Gloucestershire warned of icy roads during rush hour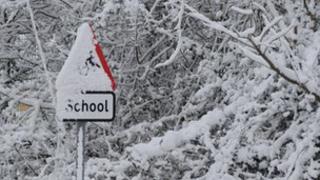 Snow and ice are predicted to cause traffic problems across Gloucestershire on Wednesday morning, a BBC weather presenter said.
Up to 5cm (2ins) of snow is expected with the Cotswolds and Forest of Dean forecast to be hardest hit.
"There will be disruptive conditions into tomorrow's rush-hour for many areas," said Ian Fergusson.
Information on any schools affected by the snow can be found on the county council's website.
Thirty-five schools shut on Tuesday following snowfall in the early hours, mainly in the Forest of Dean.
More than 300 schools closed last Friday when heavy snow disrupted much of the county for the first time this year.
Gloucestershire Highways said all roads were now open but warned of the risk of ice on untreated roads.
BBC Radio Gloucestershire is broadcasting regular traffic news and weather information on 95.0FM, 95.8 FM, 104.7 FM and 1413 MW.