Snowfall closes 35 schools in Gloucestershire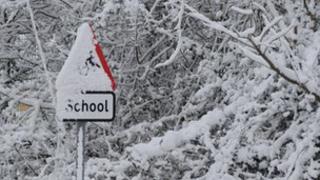 Thirty-five Gloucestershire schools have been closed and others are only partially open because of snow and ice.
Much of the county has been unaffected but heavy snow fell in the Forest of Dean in the early hours of Tuesday.
Gloucestershire Highways said all roads were open but warned of the risk of ice on untreated roads.
BBC Radio Gloucestershire is broadcasting regular traffic news and weather information on 95.0FM, 95.8 FM, 104.7 FM and 1413 MW.
Further information of the affected schools can be found on the county council's website.
A Met Office yellow warning for snow and ice remains in force throughout Tuesday for Gloucestershire.
Gloucestershire Police has urged people to take extra caution on footpaths and on the roads due to the icy conditions.