Gloucestershire snow closes hundreds of schools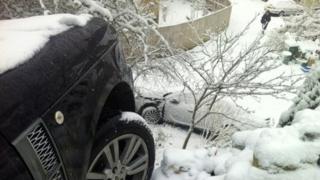 More than 300 Gloucestershire schools were shut as some 10cm (3ins) of snow fell across the county.
Early snowfall disrupted travel and services with several roads closed by police who are warning of treacherous driving conditions.
In the Forest of Dean some 300 homes in Coleford are without electricity because of snow on power lines.
A Western Distribution spokesman said engineers are currently working to solve the problem.
Gloucestershire Police said a number of roads have been closed due to heavy snow and officers are urging drivers not to make unnecessary journeys.
A full list of closures and warnings of hazardous road conditions has been posted on the force website.
On the railways there are delays between Gloucester and Newport in south Wales.
Jenny Dwight, head teacher of Highnam Primary School and Staunton and Corse Academy, said the safety of pupils was the main priority when deciding whether to open or close.
She said: "With the forecast getting worse, if it had been a bit of snow I'd have opened, we'd have had some fun and it would have been fine.
"But the other problem is, if you get the children in you've then got to get parents back and notify them. You could be left with 100 children on site at 18:00 GMT."
Some schools did partially reopen to allow pupils to sit external exams.
Head teacher of Gloucester's High School for Girls, Eva Savitsker, said there was no chance of delaying pupils sitting the papers.
All waste and recycling collections due on Friday in the Forest of Dean, the Cotswolds and Stroud were cancelled.
In Nailsworth, three cars lost control on The Ladder, known as the 'W', with the collision forcing one car through a wall.
The enhanced content on this page requires Javascript and Flash Player 9
Map Key
Land
Cloud
Lakes, Rivers & Sea
Fog
Light
Heavy
Frost
Light
Heavy
Pressure Fronts
Cold
Warm
Occluded
Rain
Light
Heavy
Extreme
Snow
Light
Heavy
Temperature tab only
Temperature (°C)
More details from BBC Weather