Gloucestershire's children in care number rises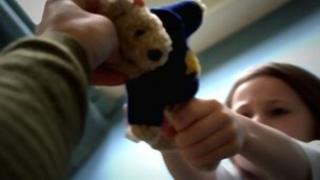 The number of children in care in Gloucestershire has risen by more than 25% over the past four years, an FoI request has revealed.
Figures from the County Council, requested by the BBC, show that there are now 498 children in care - a figure which has risen from 390 in in 2008.
At the same time there has been a year-on-year cut in funding for its provision for children in care.
The authority's budget for 2012/13 is £19.5m, down £1.8m on recent years.
Last year its budget was £20.3m and the year before it was £21.3.
'Astronomic cost'
Suzanne Fallon, who manages all children's services at Gloucestershire County Council, said it was a "very serious" situation but things had changed a lot over the years.
"We have got to do things differently if we are going to reduce demand," she said.
"That's the key - we have got to stop these children's needs becoming so complex that the cost is astronomic."
One solution being focussed on by Mrs Fallon is the recruitment of more foster carers, which she says gives more value for money than agency placements or children's homes outside of the local authority's area.
In the past she said that intervention has not happened soon enough, meaning problems for families have escalated which have then resulted in the need for high cost solutions.
The Department for Education defines children taken into care as those being looked after under a care, police protection, emergency protection or child assessment order.
Anne Longfield, chief executive of the national charity, 4Children, said the figure in Gloucestershire was reflected across the country.
"Essentially the Baby P case sent shockwaves throughout the system, and really signalled that there needed to be action earlier to help support those families, and children at risk.
"That means that many more children are being taken into care, justifiably, but earlier at the signs of neglect.
"Now of course this comes at a time when many more families are feeling the pinch, but also it means for councils that there's much more demand for their money at the time when actually they are being cut themselves, so it is a difficulty for councils to be able to juggle this at the moment."