GCHQ plans upgrade to Benhall transport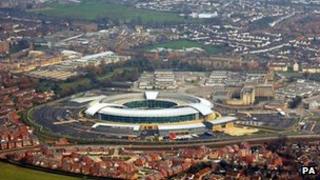 New plans to reduce congestion and ease parking issues around Gloucestershire's GCHQ should come into force this month.
The Cheltenham communications centre is investing £375,000 in work around the Benhall site.
These include cycle networks, measures to improve the traffic flow at Arle Court roundabout and a new bus link between GCHQ and Charlton Kings.
Gloucestershire County Council and Cheltenham Borough Council are also involved in the project.
"These latest initiatives will not only help employees and visitors to travel to our Benhall site in a more environmentally-friendly way, but will also help reduce the pressures on those living nearby, something we are always keen to do," said a GCHQ spokesman.
The money was put aside by GCHQ more than 10 years ago when the so-called 'doughnut' building was built, as a way of offsetting the impact of such a big development coming into the area.
The initial work is due to be completed by the end of January, with a new cycle link and footpath across King George V playing field added by the spring.