ARRC parades in Gloucester to mark NATO role for 2013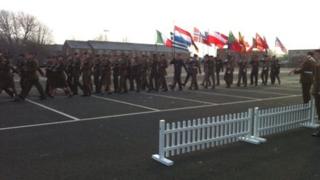 Troops of soldiers have held a parade to mark their 2013 role as NATO's response force.
HQ Allied Rapid Reaction Corps (ARRC) is on standby to be deployed at short notice to take command of NATO land combat troops during certain missions.
The Gloucester-based team underwent an intensive training exercise in Cornwall in preparation for the new year-long role, which started earlier this month.
A ceremony took place at Imjin Barracks at 09:30 GMT.
'Premier league'
NATO announced in October that HQ ARRC had qualified for duty as part of NATO's Response Force (NRF) in 2013.
NRF is a multi-national force of up to 25,000 troops said to be "technologically advanced, flexible, deployable, interoperable and sustainable". It acts on its own as a defence, crisis management or stabilisation force.
During ARRC's evaluation in October, its former commander, General Sir Richard Shirreff, praised the force as "a 'premier league' organisation".
HQ ARRC was founded in 1992 in Germany and has had its headquarters in Gloucestershire since 2010.
Some 60% of the staff are from the UK with the rest from 15 partner nations including Belgium, Greece, Norway, Portugal, Turkey and the US.