Gloucestershire appeal to buy Laurie Lee wood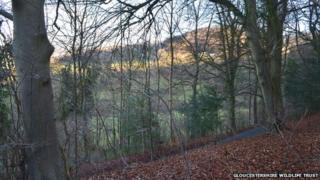 A three hectare wood which is owned by the family of writer and naturalist Laurie Lee is to be sold.
Gloucestershire Wildlife Trust (GWT) launched a bid to buy it, saying it is a "once in a lifetime opportunity" to protect a piece of literary heritage.
The Trust says Trantershill Wood, in the Slad Valley, is an ancient woodland abundant in native flora and fauna.
Laurie Lee's daughter, Jessy, wants GWT to buy the woodland to protect its future.
She said: "I'm convinced that Laurie would have been delighted knowing that the future of his beloved woods is hopefully going to be secured, and that the trust can protect this precious woodland for the benefit of the environment, wildlife and for future generations to enjoy."
Dr Gordon McGlone, chief executive of GWT, said £35,000 was needed "urgently" to safeguard the wood.
He said: "I can think of no other campaign like this, where we have the chance not only to protect a vital piece of habitat but also to commemorate publicly a great man's contribution to the nation's literature."
The woodland, which includes rare species such as white helleborine and carpets of bluebells, is next to the trust's existing nature reserve Swift's Hill.