Gloucestershire PCC apologises but maintains position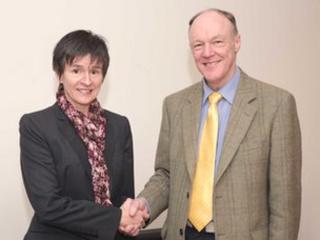 Gloucestershire's police commissioner has apologised for upsetting his scrutiny panel but added he was "not quite sure" what their problem was.
The Police and Crime Panel has "serious concerns" over the appointment process of the county's new Chief Constable.
Martin Surl said he did not want to disagree but he was "going to find it quite hard to agree" with the panel.
Suzette Davenport was approved as the new Chief Constable of Gloucestershire Police on Monday.
She was chosen as preferred candidate last week and the appointment announced publicly before Mr Surl had told the panel.
Panel chairman Brian Calway said an ongoing IPCC investigation, which includes Ms Davenport, over the handling of a 2002 gangland murder, was not "properly considered" during the appointment.
'Very fair process'
Mr Surl said he was aware of the investigation, as were those involved in the interview process, but it was not discussed during the interview.
He said: "I had an assurance from Ms Davenport that she would be acquitted of this, so I'm not quite sure what their problem is.
"At some point, someone has got to make a decision, and I've made that decision that she is the best candidate for Gloucestershire.
"I carried out a very fair process and a very open process, and I'm not going to pre-judge things that I don't know the full facts about."
Mr Calway believes panel members should have been given more information to balance Ms Davenport's performance "against the risks to Gloucestershire Constabulary".
He added that the panel, which approved the appointment, has now explored these issues.
Ms Davenport, 49, will take up her new role as the first-ever female boss of the force on 1 February.
The recruitment process states that a Chief Constable is selected by the area's Police and Crime Commissioner, but the decision has to be approved by the Police and Crime Panel which has the power to veto the decision.
In this instance, Gloucestershire's panel chairman had express disappointment that he had not been told about Ms Davenport's selection before hearing it on BBC Radio Gloucestershire.
Mr Surl added: "They are upset by that and I understand they are upset by that.
"The first people we told were the officers and staff of the Constabulary. They are my people that I actually want to know what is going on.
"We then did a press release and we did try to contact members of the Police and Crime Panel unsuccessfully.
"I'll always try to be polite, honest and fair and if they are a little upset by that I'm happy to apologise."
"There are many people who think I should have told the public first, because they are the people who elected me, and they are the people who the Chief Constable will serve.
"But if it's a big deal I'll apologise and we'll move forward."