New Gloucestershire Chief Constable appointment approved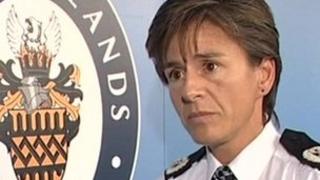 Suzette Davenport has been officially approved as the new Chief Constable of Gloucestershire Police despite a row over the appointment process.
Brian Calway, chairman of the force crime panel which approved the recommendation, said there were "serious concerns" about the process.
Ms Davenport is one of 14 police officers being investigated over the handling of a 2002 gangland murder.
Mr Calway said the issue of the probe was not "properly considered".
He said Police and Crime Panel members did not have sufficient information to "balance the candidate's performance against the risks to Gloucestershire Constabulary" at the time of Ms Davenport's interview.
He added that the panel has subsequently explored these issues, including being "appraised of all available information".
IPCC Investigation
The Independent Police Complaints Commission is currently conducting the investigation looking at how the officers investigated Kevin Nunes' murder in Pattingham, Staffordshire.
Martin Surl, the county's Police and Crime Commissioner (PCC), announced on Wednesday that he had appointed Ms Davenport to the position of Chief Constable.
The appointment was then recommended to the county's Police and Crime Panel, which approved the decision.
Mr Calway had previously spoken of his "disappointment" at first hearing about the appointment on BBC Radio Gloucestershire and not from the PCC directly.
Ms Davenport is currently deputy chief constable of Northamptonshire Police and will take up her new role on 1 February.
She will be the first female boss of the force in its 174-year history.
The 49-year-old was one of four candidates interviewed to head the 2,207-strong constabulary.