Westonbirt Arboretum: Development work starts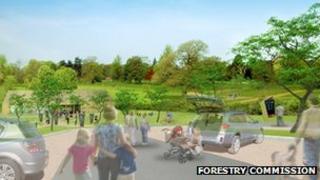 Work has begun on a new car park and welcome building at Westonbirt Arboretum, in Gloucestershire.
It is expected to last 18 months but will not affect opening times or access to the tree collection, the Forestry Commission said.
Fundraising will now begin for the next phase of development - a treetop walkway and tree management centre.
Arboretum director Simon Toomer said the developments had been "talked about for over a decade".
The first phase of development also involves restoration of the Grade I listed landscape which is currently used for visitor parking.
The new car park will provide more than double the existing number of disabled spaces close to the welcome building.
And the new facilities will impact on less than one acre of the 600 acre (243 hectares) site, according to the Friends of Westonbirt Arboretum who are leading the project.
Mr Toomer said: "The Westonbirt Project is a real opportunity to not only improve visitor facilities, but to help people understand why Westonbirt is such an important national asset."
The project has benefitted from a £1.9m Heritage Lottery Fund grant, a £500,000 Biffa Award, and other donations.
Some 16,000 trees populate the arboretum near Tetbury, featuring 2,500 different species from across the world.