Cheltenham attracting investors, says regeneration chief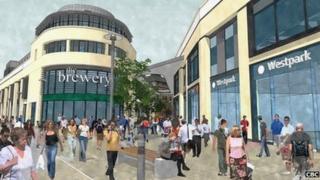 Businesses looking to invest in Cheltenham have more confidence in the town now than three years ago, according to its regeneration task force.
The group, which tries to secure private investment in development projects, says 2013 will see lots of changes.
Managing director Jeremy Williamson said several schemes were under way.
But he said parts of the town were still "blighted" and needed investment.
He said: "Cheltenham has a certain cache with developers and investors which has always been an advantage.
'Realistic responses'
"We have now created an environment where investors are actually back in Cheltenham looking for opportunities, looking to invest and we've tried to make it easier for them to do so by taking on the early risks.
"It means developers actually come out of the woodwork and think 'we will have a go at that' whereas previously when everything has been ridden with risk not only financially but in terms of site difficulties, they tended to back off."
The task force, which was set up as part of the Civic Pride initiative three years ago, now wants to target the square opposite the back of Debenhams where the old Odeon cinema is.
Mr Williamson said: "We have to accept there are blighted areas that need some TLC.
"If we take Albion Street, Gloucester place, Fairview Road and Winchcombe Street - that's quite a blighted block.
"You would not be proud of that if you are a Cheltonian so there are big bits that need some work as they are very important strategically as gateways to the town."
Mr Williamson said work had started on the Bloor housing development on Tommy Taylors Lane which will lead to 172 housing units, 40% of which are affordable.
Work on the £20m Brewery shopping scheme is expected to get under way this year.
Plans for the North Place and Portland Street car park, an area that has been unused for 20 years, look set to be considered by planners in February.