Les Miserables fan Sally Frith sees musical 957 times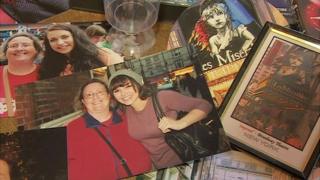 Sally Frith from Gloucestershire is a massive fan of Les Miserables.
In 25 years she has notched up 957 visits to see the famous musical on stage and has possibly spent more than £50,000 in doing so.
"I think it is one of the greatest musicals ever written," she said.
"I love the story, love the songs and everything about it, and I've got to know quite a few cast members over the years."
In fact she reckons she has seen 25 different casts in total, with favourite performances from Alfie Boe in the role of Jean Valjean and Matt Lucas as innkeeper Thenardier.
But what does the cast think of her devotion?
"Some are quite shocked and some have heard from other cast members that I'm a regular visitor, but on the whole the majority of the cast are lovely," she said.
Victor Hugo
More than 60m people have seen Les Miserables over the past three decades, in more than 40 countries and in more than 20 different languages.
The record-breaking hit musical is based on Victor Hugo's 19th Century novel.
"I have always been a fan of the theatre, and everybody was raving about Les Miserables when it first came out in 1985," said Miss Frith.
"Eventually, three years later, I managed to get tickets to see the show, fell in love with it, went to see it again, and it just grew from there."
She has seen the show mainly in London, but also at Bristol, Birmingham, Edinburgh, Manchester and as far afield as Sweden and New York.
It is a four hour journey in total - more than 100 miles (161 km) each way on the train from her bungalow in King's Stanley near Stroud - to the Queen's Theatre in London.
The musical's managing director, Nicholas Allott, of Cameron Mackintosh Ltd, said ever since Les Miserables opened it had attracted many audience members who had returned "over and over" to see it.
"These members of our fan base are the lifeblood of the show and are one of the reasons we are rapidly approaching our 30th year in the West End," he said.
Miss Frith's love of the show, which started in 1988, has also fuelled a similar passion among her family and friends.
If her mother does not travel with her, then she has friends she turns to including one who goes with her regularly and has seen the musical about 300 times.
'Absolutely mind-blowing'
Amongst her memorabilia she counts many photos of herself with cast members, as well as hundreds of tickets and programmes, T-shirts, mugs, videos, cassette tapes and more.
She avoids thinking about what her hobby has cost over the years as it is "probably too much to mention".
"They worked it out once and it was about £40,000 but that was a long time ago. So it is probably about £50,000 now at least," she said.
On Wednesday, it was announced that the film adaptation had received nine Bafta nominations including Anne Hathaway and Hugh Jackman being recognised in the lead actor and supporting actress categories.
The film is now out on general release and will Ms Frith be going to see it?
"Of course," she says, excited about her planned trip to the cinema on Monday.
"I will have to look at it with a totally different mind-frame because it's going to be a film, not a stage version, but from what I've heard it's going to be absolutely mind-blowing."