Gloucestershire police chief appointment 'not done deal'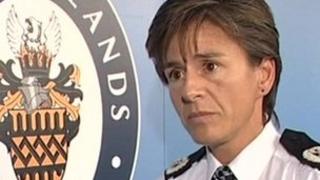 The appointment of Gloucestershire's new police chief is "not a done deal", according to a scrutiny panel.
Martin Surl, the county's Police and Crime Commissioner (PCC), announced on Wednesday that he had appointed Suzette Davenport to the position.
But the county's Police and Crime Panel, which could veto the decision, still has to meet with Ms Davenport.
Panel chair Brian Calway said he had received "very little information" about the preferred candidate.
He said he was disappointed to first hear about the appointment on BBC Radio Gloucestershire and not from the PCC directly.
"We didn't know the name of the candidate, or any details relating to the candidate at all," said Mr Calway.
"Those were going to be given to us in the next few days and I thought we should have had those before the press quite frankly."
'Considerable powers'
Ms Davenport will attend a public "confirmatory hearing" on Monday when she will answer questions from the panel on professional competence and personal independence.
Following that the panel, in private, will make a decision on whether to recommend the appointment, recommend against the appointment or use their power of veto.
Although the panel has the power to throw the decision out, Mr Calway said he is not anticipating that this will happen.
"We have considerable powers," he said. "We have the power generally, as well as supporting the Commissioner, to scrutinize his actions.
"That relates also to the budget, which will be coming up shortly, and also the strategic plan.
"I would emphasise that we are there to work in co-operation with the PCC but at the same time we are there to scrutinize what he does as well."
It was announced on Wednesday that Ms Davenport, currently deputy chief constable of Northamptonshire Police, will take up the Chief Constable role on 1 February.
She would be the first female boss of the force in its 174-year history.
The 49-year-old was one of four candidates interviewed to head the 2,207-strong constabulary.
It also emerged that she is one of 14 police officers being investigated over the handling of a 2002 gangland murder.
The Independent Police Complaints Commission is looking at how the officers investigated Kevin Nunes' murder in Pattingham, Staffordshire.