Simon Cowmeadow's inquest records open verdict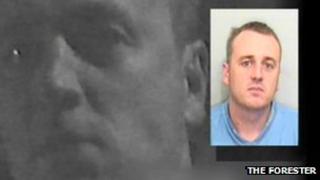 A drug smuggler who was on the run from police had assumed a new identity when he was found with a single bullet wound to his head, an inquest has heard.
Simon Cowmeadow, 43, from Flaxley in the Forest of Dean, was found dead in Amsterdam on 18 November 2007.
Gloucestershire Coroner's Court heard that in 2002 he had been sentenced in his absence to 18 years in jail for his role in a £1m ecstasy smuggling ring.
The coroner recorded an open verdict on his death.
Cowmeadow was caught with two others in 2001 unloading 100,000 ecstasy pills from a lorry in Essex.
He skipped bail and escaped abroad.
It was only after forensic tests revealed his true identity that his body was brought back to Gloucestershire for burial.