Roundabout cottage owners want Highways Agency to buy homes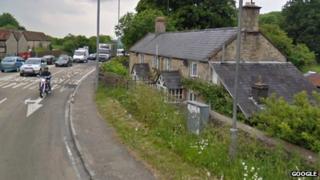 The owners of two cottages facing a busy roundabout have called on the Highways Agency to purchase their homes.
Sharon Hodges and Myra Sefton said they cannot sell their homes and the heavy traffic was affecting their health.
They moved into the cottages by the Air Balloon roundabout, Birdlip, Gloucestershire, more than 20 years ago when the road was a single carriageway.
The Highways Agency said its new scheme could improve their living conditions.
The roundabout sits on a single-lane section of the A417 dual carriageway between Swindon and Gloucester that is used as link between the M4 and M5.
The Highways Agency wants to change its layout to stop queuing traffic in the area.
A spokesman said that if the "experimental" scheme was successful it would reduce noise and improve air quality.
But the cottage owners said they did not think things would change.
'Not normal life'
Ms Hodges said: "Nothing's going to stop the pollution coming past our door.
"The traffic has increased immensely. It was very quiet, we used to get a lull between two and three in the morning, and now it's continuous."
She said her doctor had referred her for tests to find out if her health problems were pollution-related.
Ms Sefton said: "We can't sit in the garden because you can't hear yourself speak, plus the fumes - you can smell it, taste it. You can't have your windows open, it's not a normal life.
"If they compulsory purchase Sharon and me, that's one obstacle out of their way."
The Highways Agency spokesman said it could not pay the £300,000 wanted for each cottage.
"Under the Highways Act 1980 we are unable to purchase any properties or land unless specifically required for a scheme," he said.
"The scheme we are promoting here at the moment doesn't require any additional land.
"I think we've just got to try and remain focussed on the fact that we are trying to deliver something here that is cost-effective in terms of a transport solution and we need to look at the impact.
"There is a bigger scheme which might well have an impact on these cottages and where we might consider compulsory purchase, but at the moment it's completely unaffordable."