Gloucestershire wet weather causes £2m damage to roads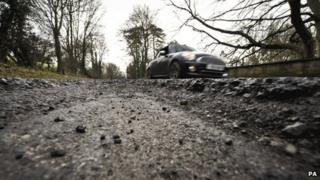 Damage caused to Gloucestershire's roads by wet weather last year left a £2m repair bill, the county council has estimated.
As well as landslips, it said that 35,000 potholes had been fixed since April, compared to 41,000 fixed across the entire previous financial year.
On Monday the authority agreed to spend a further £1m on road repairs.
Council leader Mark Hawthorne said the extra money would come from savings made elsewhere.
"There are some roads that have been badly affected and we need some money to make sure those roads are repaired as soon as possible," he said.
"That's exactly why we have put £1m of our underspend in to get those roads up and working again as soon as we can."
The annual budget for road maintenance in Gloucestershire is £15m.
According to the Met Office, 2012 was the second wettest year on record in the UK.
In November and December, many places in Gloucestershire became flooded as the already swollen rivers and saturated ground were unable to contain the heavy rainfall.