Cheltenham Town FC burgled ahead of Everton FA cup tie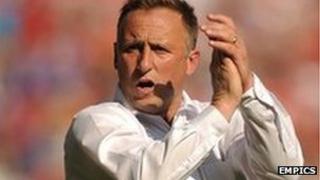 Burglars have targeted Cheltenham Town's training ground ahead of the club's FA Cup tie with Premier League giants Everton.
The break-in at Season's Swindon Village, Cheltenham, was reported at 12:30 GMT on Sunday.
Wallets, a smart phone, watches and car keys were among the items taken.
Two 17-year-olds were questioned on suspicion of theft. They will return to Cheltenham police station on 13 February.
A police spokesman said the thieves entered the training rooms on Quat Goose Lane between 10:45 GMT and midday.
"Keys to two vehicles parked outside were also taken and the cars entered. Wallets were taken from inside."
'Bit of a dampener'
Some of the stolen items have since been recovered.
Cheltenham manager Mark Yates told the BBC: "Cheltenham is a beautiful place but unfortunately everywhere has it.
"We have a big day and it put a bit of a dampener on it."
Cheltenham Town striker Darryl Duffy took to Twitter to vent his frustration at the theft of his mobile phone and said he would buy it back given the chance.
"It's white and has all my pictures [and] videos of my kids in it so it means a lot to me," he wrote.
The Robins will take on Premier League Everton in their FA Cup third round tie at Whaddon Road. Kick-off is at 19:45 GMT.
With 67 places between the clubs, it is being seen as one of the biggest matches in Cheltenham's 126-year history.