Gloucestershire Warwickshire Railway wins major award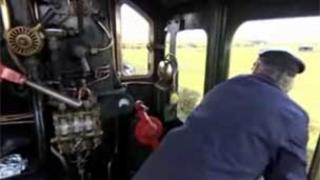 The Gloucestershire Warwickshire Railway (GWR) has received a major award for outstanding contribution to railway preservation.
GWR runs heritage train services between Cheltenham Racecourse and Winchcombe, Toddington and Laverton.
In January 2011 embankments at Gotherington and Winchcombe collapsed.
The Heritage Railway Association award citation recognises GWR's "grim determination in dealing with its double slip disaster".
During the £1m restoration works along the 12 mile-long (19 km) stretch of line, GWR continued to run services and to progress its extension towards Honeybourne.
"This couldn't have been a better Christmas present for the railway after such a struggle to overcome the serious embankment collapse problems we have gone through," said Malcolm Temple, chairman of the GWR.
The railway reopened the newly rebuilt link over the most recent collapse at Winchcombe on 30 October 2012.
GWR has also been highly commended for its presentation of Winchcombe Station with the Modern Railways magazine's restoration award.
Mr Temple thanked the railway volunteers for their dedication during the GWR's lowest period of its 32-year history.
"If it wasn't for their grim determination recognised in the award, not just in keeping the railway going but in single-mindedly concentrating on raising £1 million needed, I'm pretty sure the railway wouldn't be here today," he said.
"It has been achieved against all the odds and the award recognises that. I feel very proud right now, to be chairman of this wonderful volunteer-run organisation."
The railway offers a 24-mile round journey and carries about 70,000 passengers a year.