GB dressage team from Gloucestershire honoured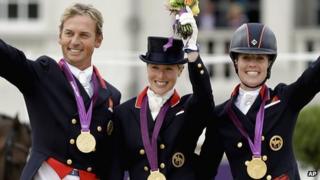 Three Olympic gold medallists based in Gloucestershire have been included in the Queen's New Year Honours list.
Charlotte Dujardin, Laura Bechtolsheimer and Carl Hester, the winning GB dressage team, were honoured for services to equestrianism.
Dujardin was appointed OBE while Bechtolsheimer and Hester were appointed MBE.
Also honoured was Ian Coley, manager of the British shooting team in the London 2012 Olympic and Paralympic Games.
He was appointed MBE for services to target shooting.
As well as being part of the team winning Great Britain's first ever gold medal in the team dressage, Dujardin, from Newent, won gold in the individual event.
Team-mate Bechtolsheimer, who is from Oaksey, in Wiltshire but has her stable is in Ampney St Peter, Gloucestershire, won bronze in that event.
Hester, who was born in the Channel Island of Sark, came fifth in the individual event.
There was just one CBE appointed in Gloucestershire - Martin Coulson Spray, who is chief executive of Slimbridge-based Wildfowl and Wetlands Trust.
He was honoured for his services to nature conservation.
"I was quite overwhelmed to learn that I had was going to receive this," he said.
"It wasn't something I was expecting in any way. I'm very, very proud because you have to be nominated for these awards and I'm extremely proud that people think I warranted it.
"I'm also part of an extraordinary team at the Wildfowl and Wetlands Trust so I hope I'm receiving this on behalf of the team effort and a great recognition of nature conservation in the honours."