Flood risk in Gloucestershire continues as more rain forecast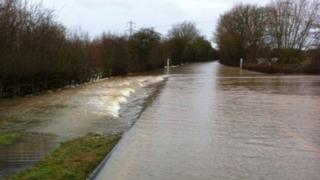 People living in Gloucestershire are being warned not to be complacent about the risk of further flooding.
Flood warnings remain in force, including on the Severn, the Frome near Stroud, the Churn near Cirencester and the Coln at Bibury and Fairford.
An Environment Agency spokesman said although the River Severn had peaked on Wednesday night more rain was forecast to fall across the county.
"The likelihood is that the river levels will rise again," he said.
"All the watercourses react in different ways - the River Severn is really high now and will remain high for the next five or six days.
'Keep aware'
"What's tending to happen now is when we get the heavy bursts of rain it is all the smaller tributaries that are shooting back up [in level] again.
"I can't count now the number of photographs of cars submerged I've seen - how do we get that message across to people?
"We're just encouraging people to stay safe and keep aware - it looks like it is going to be wet for the next few days so don't put the sandbags away yet," he added.
A Gloucestershire Highways spokesman said although some roads remained closed a number had reopened.
"Many of these locations are a result of the high water levels making the drainage systems unable to discharge the surface water from the highway.
"These will naturally fall as the water levels reduce but it continues to be a slow process with the current daily rainfalls," he said.