Cheltenham explosion family await house rebuild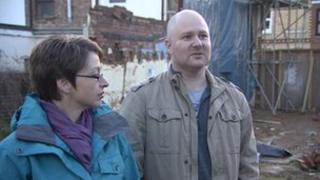 A family whose home was destroyed in an explosion in May have said work on their new home is due to begin.
The blast in Cheltenham destroyed a woman's home and two neighbouring properties, one of which belonged to Richard and Sarah Drinkwater.
Mr Drinkwater said: "Fingers crossed this time next year we will be in our family home with everyone coming to us for Christmas."
A report by Wales and West Utilities found no obvious cause of the blast.
'Frightening thing'
Since the explosion in Rosehill Street residents have received counselling to deal with post-traumatic stress.
Sarah Drinkwater said: "It's just the fact that we all really came that close - it's a frightening thing to have to deal with but you can get there."
Other houses along the street have also had repairs carried out, such as replacing roofs and windows and replastering damaged walls.
Planning permission has been obtained for the Drinkwater family to rebuild their three-storey house.
"I think what is going to help us, the fact that we can see it being reborn from the ground up," said Mr Drinkwater.
"We just want the ease of our life back as soon as we can - it's an exciting time and then we can come back home," added Mrs Drinkwater.
Despite the extent of the destruction which affected about 10 homes, no-one was injured.