Gloucester regeneration 'priority' says MP Richard Graham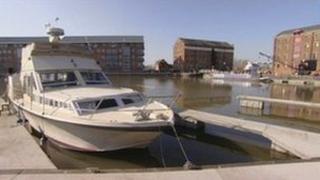 The regeneration of Gloucester should be a priority for the county in 2013, the city's MP has said.
Conservative Richard Graham is asking the city council to make sure any redevelopment happens citywide and "not just around the docks".
A council spokesman said regeneration was a priority and will continue to be.
The Gloucester Heritage Urban Regeneration Company (GHURC), which is in charge of regeneration in the city, will be wound down in the new year.
Gloucester's revamp portfolio will then be officially handed to the council.
"It is needed all around the different wards in the city, not just around the docks that these applications, approvals and developments are driven forward fast," said Mr Graham.
'Job not done'
"This includes Kingsway where one or two things have been delayed, but I hope we're going to get moving forward over the next year."
Paul James, Conservative leader of the council and cabinet member for regeneration, said the council "will not be taking its foot off the gas".
"Our efforts to transform Gloucester will continue after GHURC winds down, with a new regeneration board and an in-house regeneration team," he added.
"Some of our key activities include progressing the Kings Quarter scheme following the signing of the development agreement with Stanhope and continuing works to stabilise and restore the historic Fleece Hotel.
"The new year will see the transformation of the Railway Triangle and hopefully a start on site at Greyfriars.
"Although in recent years we have attracted over £500m of investment into the city, we know our job is not yet done."