Forest of Dean man guilty of explosives charge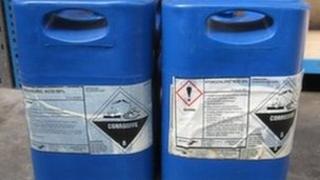 An 18-year-old man from the Forest of Dean has pleaded guilty to possessing explosive materials and arson on a railway carriage at a court hearing.
Stuart Lee, from Pillowell, admitted having hydrochloric acid, potassium cyanide and sulphuric acid which he stole from a business in Whitecroft.
Gloucester Crown Court heard Lee set fire to a railway carriage on a heritage railway line.
He was remanded in custody until his sentencing in the new year.
Judge Jamie Tabor also ordered a full psychiatric report to be carried out.
At a previous hearing, Lee, of School Road, admitted the theft of the chemicals, shoplifting and failure to surrender to bail. He is also awaiting sentence for these offences.
He was arrested in September after two 30-litre drums of acid were stolen in the Forest of Dean.
The drums, containing hydrochloric acid and sulphuric acid, were stolen from the business in Whitecroft, and later recovered from a property in the same village.
A quantity of potassium cyanide was also recovered in Pillowell.