Gloucester building partly demolished for cinema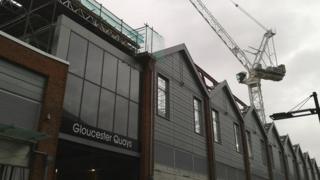 A four-year-old building at Gloucester Quays has had to be partly demolished as £6m of work is carried out to create a cinema.
Peel Holdings is building the 10-screen multiplex as part of a £60m leisure-quarter development.
Gary Cramp, from McLaren Construction, said it was "a bit of a shock" to be asked to take apart such a new building.
The main building work is expected to last until early summer next year.
'Roof off'
Peel Holdings has claimed the development, which will also include restaurants, shops and bars, would bring in an extra £750,000 to the area and create 500 new jobs.
The cinema is being built above shops in High Orchard Street.
Mr Cramp said Peel asked the constructors to take the roof off and get the new tenant - Cineworld - into the building.
"Basically we've had to retain the existing structures, take the roof off ,which is a big demolition practice, take another bit of the building down and then put a new steel structure up," he said.
"The steel structure incorporates mezzanine floors, which give projector levels, and there is a very deep auditoria.
"We're looking at about early summer to get it open. That's for us to hand it over, then there will be a fit-out period when we hand the project back over to the client."