Traveller family guilty of forced labour are jailed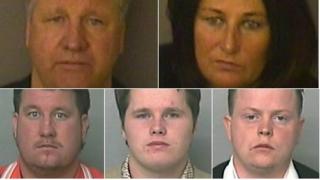 Five members of a traveller family who kept their own private workforce have been jailed.
They were found guilty at Bristol Crown Court of beating their victims and forcing them to work for as little as £5 a day.
William Connors, 52, Brida (Mary) Connors, 48, sons John, 29, and James, 20, and son-in-law Miles Connors, 24, were convicted on Friday.
The court heard their victims were homeless drifters or addicts.
William Connors was jailed for six-and-a-half years and his wife Brida was sentenced to two years and three months.
Their son John was jailed for four years, while their other son James was sentenced to three years in a young offender institution. Their son-in-law Miles was sentenced to three years.
Their crimes were committed in Gloucestershire, Leicestershire and Nottinghamshire, the court was told.
Controlled by violence
The Connors family enjoyed top-of-the-range cars and expensive holidays at the expense of their victims who lived in squalid caravans on traveller sites as they moved around the country working on their paving and patio businesses.
Some of the victims were ordered to perform humiliating tasks, such as emptying the buckets used as toilets by their bosses.
Many were beaten, hit with broom handles, belts, a rake and shovel, and punched and kicked by the family.
Their work was monotonous, arduous and unrelenting, and they were controlled by discipline and violence, the court heard.
They also had to scavenge for food from rubbish bins at supermarkets as they were given so little to eat.
In contrast, the Connors were overweight and had gone on holidays to places such as Dubai and Cancun in Mexico as well as on a Caribbean cruise.
They also had more than £500,000 in their bank accounts.
The family was caught after being placed under covert surveillance by police following the discovery of the body of worker Christopher Nicholls, 40, in 2008.
They said the workers were able to come and go as they pleased and William and Mary suggested they acted as "good Samaritans" by providing them with food, work and accommodation.
'Unrecognisable friendship'
Passing sentence, Judge Longman said the workers had "outstanding qualities of resilience, basic decency and loyalty" and had considered themselves as being "better off" working for the Connors than on the streets.
"All were vulnerable in some way and it was this vulnerability which was exploited by the defendants for their own commercial gain," he said.
Judge Longman added: "Although some workers spoke of their bosses as friends, the status of the workers as compared to the bosses was so inferior as to render the relationship between them unrecognisable as friendship by normal standards.
"Workers spoke of violence being meted out by certain bosses against workers on different occasions but the evidence did not suggest that violence was regularly used against workers and rarely during the indictment period.
"I am, however, satisfied, that such violence as there was not only helped to define and emphasise the unequal relationship between bosses and workers but also served to ensure that the workers knew there was a line that was not to be crossed."