Barnwood bunnies' disappearance investigated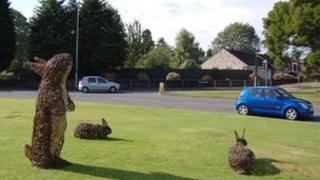 The apparent disappearance of a roundabout's rabbit residents is to be investigated by the council.
The "Barnwood bunnies", who have Facebook and Twitter pages dedicated to them, live in the middle of one of Gloucester's busiest road junctions - Walls roundabout.
But fans say numbers have dropped.
The city council said it did not know what had happened to the rabbits and that one of its countryside team would be be going there to investigate.
Gordon Tozer, who lives near the roundabout, said: "They've been part of my life for the last 10 years.
"I became aware of it [the drop in numbers] through seeing things on Facebook and Twitter, where they have a page, and people were making comments about the decreasing numbers, and certainly we've noticed it walking to and from work.
"Instead of seeing maybe two dozen, it would just be the odd one and now, apparently, it's nil."
He said: "I'd just like to see them come back or find out what happened to them."
Three wicker rabbit sculptures joined the real bunnies on the roundabout in 2009.