GCHQ Oakley site closure marked with ceremony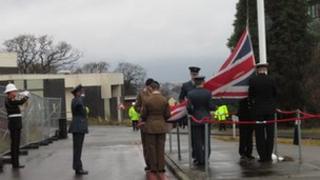 A closing ceremony has been held at GCHQ's Oakley site in Cheltenham to mark the end of more than 60 years of use by the intelligence agency.
Buglers played as the union jack was lowered for the last time.
A spokesman said "every nook and cranny" had been searched to ensure nothing of relevance was left behind.
GCHQ director Iain Lobban paid tribute to those whose work at Oakley has helped protect national security since 1952.
"We should remember that this was the site of GCHQ's headquarters for longer than anywhere else in our history," Mr Lobban said.
"As we move on and continue to do great things in the future, we should remember how much we owe to the people who worked here, and the great things they did here, which provide a foundation for what we do today."
Doughnut building
Oakley became the main site for GCHQ when its former location at Eastcote, Middlesex proved too small to accommodate its new Cold War mission.
The decision to close the site was taken as part of a move to centralise GCHQ's headquarters in one location, making significant savings.
GCHQ's people and operations are now located in one place in Cheltenham - the 'doughnut' building in Benhall.
That building is the focal point for GCHQ's continuing mission to produce signals intelligence, protect government communications from compromise and help defend the UK's interests in cyberspace.
Operations ended at Oakley in December 2011 and since then the remaining buildings have been decommissioned in preparation for the eventual sale of the site for residential development.