WH Davies signed books found in Gloucestershire cottage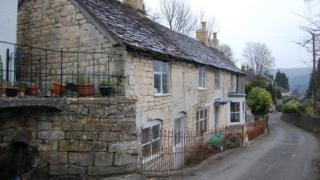 A number of signed WH Davies' books have been found during a clear-out of the writer's final home in Nailsworth.
The "treasure" was buried within a cluttered wardrobe, away from the knowledge of those working hard to promote the poet's legacy in Gloucestershire.
William Henry Davies had scribbled messages such as "My book" and a version of his The Loneliest Mountain poem inside the five books.
Glendower, his former cottage, is currently undergoing restoration work to make it liveable.
Born in Pill, Newport, in 1871, Davies became a celebrated working-class poet in Edwardian London after spending his early adulthood hitch-hiking across north America.
Preserving the memory
He is probably most famous for writing The Autobiography of a Super-Tramp as well as the poem, Leisure.
In 1928 he moved to Nailsworth, Gloucestershire, where he lived in four different cottages including Glendower where he spent his final few years until he died in 1940.
The Grade II-listed cottage on Watledge Road has remained in the family ever since but became a local talking point in 2009 after falling into a state of disrepair.
On an outside wall is proudly displayed a stone tribute offering Davies' famous words - "What is this life if full of care, we have no time to stand and stare".
On the inside, the only standing and staring now being done is by those watching a specialist builder hard at work.
This restoration project was motivated by the Friends of Glendower group.
It was founded by near-neighbour Tony Burton in order to preserve the cottage and the memory of its famous former resident.
Now an expert in old cottage restoration is working to return the home to its owner, WH Davies' great nephew Norman Phillips, 78.
The first phase of work is due to be completed in the new year, making part of the home liveable once again.
"I'm quite excited thinking about moving back into the house next year when it will be habitable for me to live in," said Mr Phillips.
"It has been my home since 1949 and I hope to spend my last years there."
The home has stood empty since 2003 when a heart attack forced Mr Phillips out of the dilapidated cottage and into sheltered accommodation.
No thought had been given to its restoration until the local authority, Stroud District Council, weighed in with an urgent request to see major repairs under way.
Discovering 'treasure'
A compulsory purchase order was later threatened by the council should work not be carried out soon.
It was then that Mr Burton offered his friendship and support to Mr Phillips to help raise money and awareness to see Glendower restored.
This summer, a small group entered the cottage to begin removing all that Mr Phillips had hoarded over many years, to make way for the builder.
Numerous "curiosities" have since been discovered within, including a giant circular beam, an in-built semi-circular bedroom cupboard, letters from WH Davies to members of the family and the collection of signed books.
It has been discoveries such as these that have stoked the Friends of Glendower's passion for raising WH Davies profile.
Mr Burton said: "I arrived one day and Misty [a helper] said to me 'we've discovered treasure here'.
"She had found five books actually signed by Davies in his own name, including his famous autobiography, so we thought we really had discovered treasure.
"Norman had never mentioned these were in the house so it was a great delight that we had discovered these."
It has been suggested that the books should be given to the British Library but Mr Phillips wants them to remain in the cottage.
"We think this is a very important piece of Nailsworth history," added Mr Burton.
It is hoped the cottage will become a valuable place for enthusiasts to visit and study, housing the collection of books, manuscripts and belongings that have remained in the family for decades.
Living among it all will be Mr Phillips, one of the last remaining direct descendants of WH Davies' family.