Gloucestershire floods clean-up cost to top £1m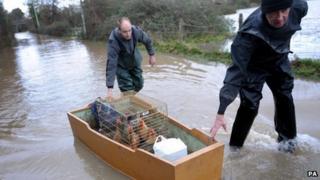 The cost of clearing up after the recent flooding in Gloucestershire is likely to be in the region of £1m, the county council has said.
Damaged road surfaces, drainage problems and the effects of three landslips have contributed to the bill.
Councillor Will Windsor-Clive said £20m of work carried out over the past five years has limited the damage this time.
"That has done fantastically well. We've had just over 50 houses flooded compared to hundreds in 2007," he said.
"In Gloucester the water level was only half a metre (1.6 ft) lower than during the 2007 floods.
"Without those flood defences the Environment Agency estimate we would have had over 200 houses flooded just in Gloucester alone."
Last month towns, villages and more than 20 roads were badly affected by flooding across the county.