Fire Service College to be sold to Capita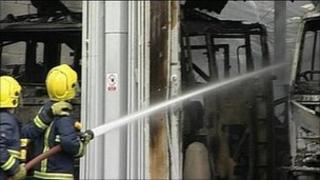 The UK Fire Service College - the main national training centre for fire and rescue workers - is to be sold to Capita, the government has announced.
Communities minister Brandon Lewis said the college in Gloucestershire would be sold "to achieve value for money" for the taxpayer and secure its future.
"I am delighted that we are making real progress in securing the future of such an important facility," Mr Lewis said.
The Prospect union has said it hoped the sell-off would secure staff jobs.
Prospect negotiator Philippa Childs said: "Consultation with the new owner on the transfer will begin next week and Prospect intends to work closely with Capita to ensure the organisation's long-term viability as a world-class training facility.
"While we are disappointed that the college could not remain within the public sector, government spending cuts meant that no money could be spent on the infrastructure, recruitment or pay rises.
'Beset by debt'
"We hope today's announcement signals light at the end of the tunnel."
The 500-acre site, in Moreton-in-Marsh, has been run as a trust since 1992.
A report last year showed the government-owned site was "beset by debt and financial issues".
Andy Parker, joint chief operating officer at Capita, said: "The acquisition further expands and complements Capita's existing capability in the emergency services market.
"Our aim is to develop the college into a leading edge training facility that can showcase new technology, and to expand both the range of training available to the fire service, other emergency services and into related markets, such as defence and oil and gas."
Mr Parker said the firm hoped to expand the college and increase its current revenue of £17m a year to more than £200m over the next 10 years.
'Create jobs'
Cotswolds MP Geoffrey Clifton Brown (Con) has said he hopes the sell-off will create new jobs.
He said: "It shows they are going to invest many millions of pounds into the college in Moreton-in-Marsh.
"What it will become is not just a college to train senior fire fighters but also a national emergency planning college to bring together all the main agencies that could be involved in a national emergency, and that will create a considerable amount of jobs."
The MP has estimated the number of jobs could double to about 400 over the next five years, making it the largest employer in the Cotswolds.