Prestbury flood relief works end date set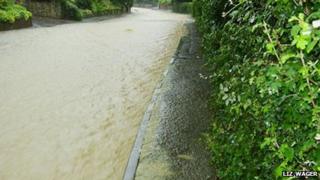 Work to finish a £1m flood defence scheme in a Gloucestershire village will begin in the new year.
The cash was allocated to Prestbury after the 2007 floods but the last part on Noverton Lane has not been started.
Gloucestershire Highways said the original design would have required frequent maintenance and submitted an alternative plan.
Spokesman Chris Riley said as the Environment Agency was funding the scheme it had the final say.
'Frequent cleansing'
He said the original design by the Environment Agency had three cattle grid-style gratings across the width of Noverton Lane.
"Our concern is that this would have required frequent cleansing because of the amount debris which comes down the hill.
"To do that would have meant closing the road for an extended period because the drainage channels go across the entire width of the road.
"Although we submitted our design to the EA in March and had to wait until September for approval, the funding is coming directly from them so they have control over what we are allowed to build.
"We are finalising the design at the moment and hoping to start in the new year."
The High Street in the village - which flooded twice in summer 2007 - flooded again last month.