Gloucestershire waste incinerator: For or against?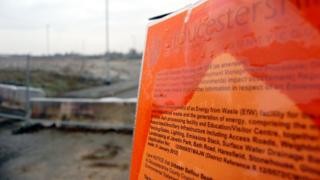 Is a £500m waste incinerator the best way of getting rid of Gloucestershire's rubbish?
It is a topic which has pitted officials and campaigners against each other for five years and, even though a deal has been signed to build it, permission for the Javelin Park plant is yet to be granted.
What are the arguments for and against it?
FOR
Gloucestershire County Council (GCC) says almost half the county's household rubbish currently ends up in landfill sites.
This is something it believes needs to change for financial and environmental reasons.
The council says it currently pays the government £64 per tonne of waste that goes into landfill - a figure that is increasing by £8 each year - and it will be fined if it breaks set limits.
So it has spent years looking for "a more environmentally friendly and cost effective way" to dispose of waste.
It had 34 possible solutions in 2006 and, over time, has whittled them down to just one - a new "energy from waste" plant to be running by winter 2015.
Electricity would generated by a steam turbine being turned when hot gasses are mixed with heat from the burning waste. Heat energy is also created during this process.
The authority said its chosen method had been proposed by Urbaser Balfour Beatty (UBB), as the council did not have a preferred method, or technology, for the job.
Councillor Stan Waddington, cabinet project champion for waste, said: "The evaluation was based on a transparent scoring system approved by the cabinet in 2008 based on environment, technical, financial and legal factors."
Then there is the question of site. Where should it go? Javelin Park in Haresfield, near Gloucester, was the council's answer.
In 2004 it was identified as a site suitable for strategic waste treatment and, five years later, was bought by the council following an independent report on potential sites.
However the council stresses this purchase did not end its research into other sites or other technologies.
So with the method now chosen and the site selected, the question became one of payment.
It is going to cost the council some £500m over 25 years for UBB to dispose of the county's household waste.
This is "not new money", says the council, as that fee will be met through local council tax instead of paying for current landfill fees.
In fact, the authority is confident the plan will create savings to the tune of £190m against continuing with landfill.
It also denies claims a penalty fee will be paid to UBB should planning permission fail, saying a cap is in place on expenses UBB can claim "but only if the planning process has been exhausted and UBB has done its best to get planning".
AGAINST
The voices against the council's plans are numerous, varied and loud.
Strong feelings surround the planned location, method, cost, environmental impact, health implications, council behaviour and more, but thousands of people agree that this particular solution is not wanted.
Juliet Bailey, an ecologist who lives less than a mile from Javelin Park, said the "huge cost" was her primary objection, but also calling it an "energy from waste solution" was "a real problem misnomer".
"Some energy will be produced yes, but basically you're sending up really valuable recyclables in smoke - that is not energy from waste, that is a huge resource waste," she said.
Other concerns include the environmental impact of emissions from the incinerator.
Ms Bailey believes the incinerator "plume" would have an effect on residents and wildlife in the area.
Campaign group GlosVAIN was set up to fight the plans, drawing together individuals and organisations in the Severn Vale.
In October the group accused the council of being "reckless" in signing the deal with UBB before planning permission had been granted.
It says waste incinerators are "the worst option", claiming evidence suggests it could add to health risks as well as create toxic ash and have a huge impact on the landscape.
Instead it advocates the use of mechanical and biological treatment along with anaerobic digestion.
A number of local council bodies have also voiced disapproval, including Haresfield Parish Council which believes, among other things, the incinerator's design would result in "demonstrable harm by virtue of its size, massing and industrial materials".
The chair of the council, architect Humphrey Cook, added the debate needed to be a democratic process with all issues being "heard fairly on a level playing field".
National body English Heritage has also weighed in with its disapproval, recommending the application is refused.
A spokesperson said: "It is our opinion that proposals to build a waste incinerator at Javelin Park will result in substantial, cumulative harm to the historic environment by impacting the setting of several listed buildings and scheduled monuments."