Gloucestershire police boss makes budget promise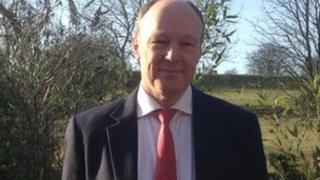 Gloucestershire's police and crime commissioner is promising to keep a tight control on the administrative costs of the county's police force.
Figures show the costs of running the now defunct police authority had risen by some 300% over the past 10 years.
The force's budget was previously set by the police authority but from November this transferred to the new commissioner Martin Surl
He said he wanted to keep running costs to an "absolute minimum".
Independent Mr Surl said: "Every person, every department.. only exists...to provide a good service to the police and the county.
"We're all looking to the front line so whatever we can reduce on administrative functions, the more there is for policing."
Costs defended
Figures obtained by the BBC under the Freedom of Information Act show costs trebling from £245,000 in 2001 to an annual budget last year of £751,000.
At the same time the amount of expenses claimed by the 17 members of the authority rose from £74,000 to £188,000 last year.
But the increases in the running cost of the police authority were defended by its former chairman, councillor Rob Garnham.
Mr Garnham said he believed some of the increase could be attributed to a change of accounting procedures where some of the costs previously paid for by the constabulary had been passed on to the police authority.
He added the authority now had to pay for its accommodation costs, audit fees and had increased its staffing to "improve its engagement" with the public.
Police and crime commissioners are responsible for setting the police budget and holding the chief constable to account for the delivery of the force.
They also set and update a police and crime plan, are responsible for hiring and firing the chief constable but do not have a say in day-to-day operational matters.