Traveller family 'wanted my past life over', says victim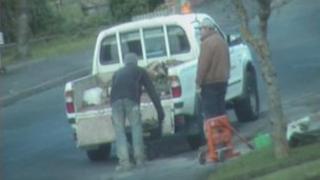 Oliver was down-and-out, not long out of rehab, drinking in a Leeds graveyard and in need of a saviour.
Unfortunately for him, while the outstretched hand was being offered by someone whose main intention was to give him a new life, the man wanted to own it, too.
"He said he could help. That he would look after me forever," remembers the 47-year-old recovering alcoholic.
Within hours, he was 100 miles away, living in a "tatty" caravan and being prepared for work that would see him paid less than £10 per day.
Now the man behind that offer, 24-year-old Miles (Miley) Connors, has been convicted following a 12-week trial at Bristol Crown Court.
He is one of five members of the Connors family of travellers who were found guilty of conspiracy to require a person to perform forced or compulsory labour.
During the trial, jurors heard the Connors family used a private workforce of homeless men to maintain their lifestyle of exclusive holidays, top-of-the-range cars and a property portfolio worth £500,000.
'Sounded too good'
But even with the family now awaiting sentence, Oliver (not his real name), is still plagued by nightmares and is taking medication and receiving treatment from psychologists.
It started with an offer of help, bolstered by offers of "plenty of money, a roof over my head, food every day, drink and drugs", said Oliver.
"[Miley] gave me a way of getting out of Leeds and out of my drink problem - it sounded too good to be true," he said.
Once in the car, he was driven to Enderby in Leicestershire and shown to the caravan where he would live.
He said: "It was a scruffy, horrible little dingy thing. Not clean at all. Really small.
"There was another worker in there but he left straight away. He said he was going to the toilet and I'm still waiting for him to come back now. I don't know what happened to him."
Before beginning work for the Connors in Leicestershire, Oliver said he was given three days to "dry out" from heavy drinking, something that was needed to get over "the shakes".
He said: "I was Miley's only worker with him at the time. You name it, I did it. Driveways, manholes, all that sort of thing."
Simultaneous raids
Payment was not guaranteed but on the days he was paid he received £10, which he said was enough for him to buy drink, some food and tobacco.
"[Miley] promised a great life and it wasn't a great life at all," he said.
"We worked six days a week, sometimes seven, from daylight to darkness and in every weather.
"I had no way of getting out of it, or getting away. Once I was there that was it. My past life was over. Gone. That's how they wanted it."
And that was how he had it for eight months, before police raided the Kirk Lane site, in Enderby, in March 2011, arresting Miley in the process.
In a simultaneous raid, Miley's father-in-law William, aged 52, and mother-in-law Mary Connors, 48, known as Brida, were arrested at The Willows site in Staverton, Gloucestershire.
A further raid at Common Lane in Mansfield led to the arrest of their son, Johnny Connors, 29. Another son, James, 20, was arrested in Denmark.
Gloucestershire Police said that 19 suspected victims were "rescued" during the five raids.
The force said it collected more than 8,000 hours of surveillance footage while monitoring the Connors.
For Oliver, it all became too much at one point and he tried to escape, which he recalls as a "horrendous" experience.
'Proper scared'
He said: "I had just about had enough. I had not been in contact with any of my family, work was getting me down all the time, and I didn't like the stuff I was doing for them, so I did a runner.
"[Miley] caught me on the same day in Leeds. He said 'what you playing at?' and I froze. I panicked. Proper scared, I couldn't believe he had picked me up, all the way up in Leeds."
During the trial, the jury heard the Connors' workers would get a "good whipping" if a certain standard of work was not met.
They were given one account of "hosing-down sessions" where the men were stripped and washed down, and another worker having told police "slaps were a way of life".
Oliver said he witnessed other workers being hit, some with shovels, and with some he just saw the physical aftermath of a beating.
It is an experience he believes is not uncommon.
He said: "I'm hoping that it gets recognised around the country that it's going on.
"There are people out there getting treated badly and made to do things that they don't want to do."