Gloucestershire A436 driver 'recorded at 136mph'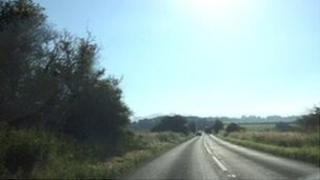 Drivers speeding at more than 100mph are among thousands who have broken the limit on a main road in Gloucestershire, campaigners claim.
The highest speed recorded was 136mph (219km/h), on the A436 near Andoversford, says the No Crash group.
It said police data indicates 92,000 vehicles broke the speed limit on the road, across two months.
Gloucestershire Police confirmed the data was accurate, and highways bosses said they were happy to meet the group.
Other high speeds of 131mph (211km/h) and 128mph (206km/h) were recorded near the village of Westfield.
'Regular action'
Councillor Paul Hodgkinson, chairman of No Crash (North Cotswolds Rural area Against Speeding Harm) group, said: "We always knew that speeding was a real issue, not just perception.
"Now, we are asking for regular action over the long term to promote road safety."
Insp Jason Keates, who is in charge of policing roads in the county, said: "We fully support communities looking to help make their communities safe and speeding vehicles are a concern in a number of villages and parishes in the county.
"A multi-agency approach is being taken to address the concerns of residents on this route and we do already carry out regular speed checks in the area, both with mobile patrols and camera vans."
According to the group, the police data was collected during October and November between the Air Balloon Roundabout and Bourton-on-the-Water.
Across both months, more than 250,000 vehicles were counted as they drove along that stretch of road.
Drivers were also recorded doing over 100mph along stretches near Kilkenny, Hampen Hill and the Shipton crossroads, the group said.
No Crash was set up in the summer to combat speeding on the A436 and in surrounding villages.
Police said they were taking a "multi-agency approach" to tackling issues on the road.