Berkeley power station recycling deal for remaining boilers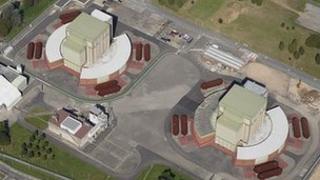 A £15m deal has been agreed to recycle 10 remaining boilers from the former Berkeley nuclear power station.
Early next year, Studsvik will have the boilers collected from Gloucestershire and taken to Sweden for recycling.
The same company has already spent £8m on removing and recycling five boilers from the site, each of which weighs some 300 tonnes.
The Magnox Berkeley site is the first commercial nuclear power station in the UK to be decommissioned.
'Decommissioning milestone'
Each redundant heat exchanger is 22m (72ft) long and was used as part of the electricity production at the nuclear power station, which ceased operation in 1989.
The boilers have to be placed on platform trailers and escorted by road through the town of Berkeley to Sharpness docks.
The journey is only four miles but it takes up to five hours with the lorry travelling at about 4mph (6kmh) and some street furniture needing to be removed along the route.
The boilers are then shipped to Studsvik's processing facility near Nyköping in Sweden.
Steve McNally, Magnox director of the Berkeley site, said the removal of the boilers was a "major decommissioning milestone" for Berkeley and another important step in preparing the site for entry into Care and Maintenance.