Cotswold solar farm will 'make flooding worse'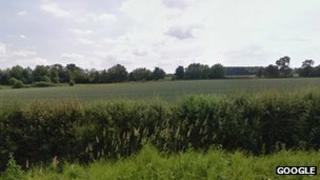 Villagers living near a proposed solar panel farm in the Cotswolds have said it will make local flooding worse.
MS Power Projects Limited want to put 16,000 solar panels on 18.5 acres (7.5 hectares) of farmland at Norton Hall in Mickleton near Chipping Campden.
Locals said the land, which is bordered by two brooks, absorbs some flood water but the farm will compact the ground making it more prone to water damage.
A company spokesman said its plans "avoided flood-prone areas".
David Holmes, who owns a nearby farm, said: "I've spent 23 years working my little farm up and I feel as though I don't want to be looking at that every day.
"The land's going to be compacted with a brook running right through my property. I feel as though if this land gets even more compacted we're at a lot more risk of flooding."
'Suitable' site
Les Jones, whose home backs on to the proposed site at Norton Hall, said: "There's a stream running right by us here and at the far side of the field there's also a significant stream.
"And we've got the Cotswold escarpment only about a mile away. When it rains, all the rain from that escarpment comes this way."
Senior lecturer in renewable energy policy Dr Peter Connor said he understood residents' concerns but wasn't sure how much of a risk it would be.
"You're talking about panels that sit on a metal frame," he added.
"Having seen a number of these sites already, you're not likely to have much of a risk associated with any type of development."
MS Power Projects said it had already lodged a flood risk assessment with the planning authority, independently of the planning application.
'Low risk'
"It [the assessment] concludes that this particular site is suitable for a solar development," said development director Larry Mark.
Although some of the field is regarded as having a risk of flooding, Mr Mark said the development will not be on that part.
He said: "We have deliberately avoided flood-prone areas within our development proposals.
"So we will be developing wholly on what is classified as flood zone 1, which is extremely low risk."
The company said the installation would be capable of generating up to 3.5 megawatts of electricity.
It said the field had been chosen for a number of reasons, including its sunny location and close proximity to the national grid.
The panels will be connected to a nearby electricity substation - approximately 150 metres (140 yards) across the road - via an underground cable.
There are currently plans for four further sites across the county.
Three in the Forest of Dean have already been approved, with two in the Cotswolds - including the one at Mickleton - still being discussed.