Gloucestershire hospitals failing over 'bed-blocking'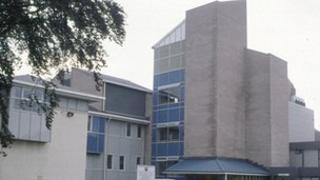 Gloucestershire's two main hospitals are failing to meet their own targets over so-called bed-blocking, a report has found.
The county's NHS hospital trust has an aim of 30 or fewer medically fit patients waiting to be discharged at the end of each month.
The trust report found it exceeded that target each month this financial year.
On some occasions. the figure was double what it should be at Gloucester Royal and Cheltenham General.
'Not a priority'
In September there were 67 patients waiting to be discharged, in August there were 62 and there were 65 in June.
The report states that each month around 3,500 patients are discharged from surgery and medical divisions at both hospitals.
Gloucestershire Hospitals NHS Foundation Trust said in a statement the target was internal rather than national and therefore it was "not a priority area".
It said: "The time taken to achieve discharge will vary depending on individual need and the wishes both of the patients, their families and carers."
Bed-blocking is often thought to occur due to a lack of care home places for the elderly.
The trust said it was trying to get the figures under control by speeding up the process of discharging a patient to a community hospital or care home.