Bishop of Tewkesbury the Right Reverend John Went to retire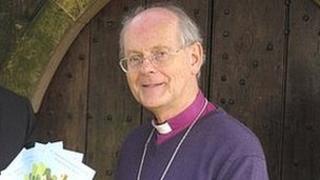 The Bishop of Tewkesbury has announced he is to retire from the role after 17 years.
The Right Reverend John Went said he would step down in March 2013, and will look back with "great joy" at his time in the Diocese of Gloucester.
Bishop Went said highlights of his time in office include sponsored sleep-outs to raise money for homeless projects and leading pilgrimages.
He said he and his wife Rosemary will look forward to a "fresh challenge".
Bishop Went plans to return to parish ministry and will be licensed as a part time parish priest in Latimer and Flaunden in Buckinghamshire next April.
He said: "During our 17 years in the Diocese of Gloucester it has been our privilege to serve alongside many able colleagues and to make many friends whose friendship we shall continue to value as we move to a new diocese and a new ministry."
There will be a farewell service in Gloucester Cathedral on 2 March.