Gloucester's Kings Square could be moved by developers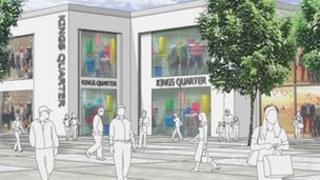 The company behind the redevelopment of Gloucester's Kings Quarter has said part of the square could be moved to give the area more "soul".
Developers Stanhope plc have said they want to move the current Kings Square towards the railway station.
Chairman Martin Chase hoped it would create an "interchange" with nearby facilities and shops.
In September a £60m deal was signed between the developers and the city council to revamp the area.
"At the moment it's a great big space in front of Debenhams," said Mr Chase.
'Little bit soulless'
"While it's large and airy, arguably it's a little bit soulless in terms of what it's offering the visitor.
"What we want to do is to put new buildings in that area and new streets and then move the square to where the current bus station is".
Local architect Jeff Roberts is behind the idea but is worried that local people will not be taken into consideration by the design.
"I think it would be absolutely brilliant if this square could become a big open space and be vibrant and have a multitude of uses," said Mr Roberts.
"But that, to be honest, I don't think is going to happen with a developer-led scheme.
"There's no real monetary value in open space, you want buildings."
The development, which could open within five years, includes 30 new shops, restaurants and a bus station.
Stanhope plc is also behind a new £800m retail and leisure complex on the old Cattle Market in Hereford.