HMS Gloucester's bell on display in museum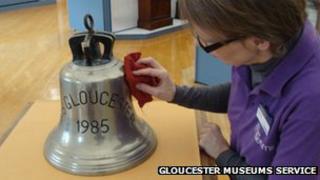 The bell of HMS Gloucester, a Royal Navy destroyer, has been put on display at Gloucester's local museum.
HMS Gloucester was the 10th ship to bear the name of the city but was decommissioned last year.
During its service the ship travelled nearly 790,000 miles and played a part in both civilian and conflict situations such as the 1991 Gulf War.
Council leader Paul James said: "You could say her heart now has pride of place in our local museum."
He said: "It means that residents and visitors can continue to have a connection that has been so very dear to us for a long time."
The ship's bell can be seen at the City Museum and Art Gallery in Brunswick Road.