Gloucester's Morrisons supermarket construction under way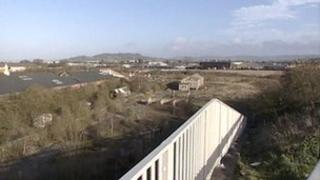 Construction work has begun on a £34m scheme to develop a site in Gloucester that has lain derelict for 30 years.
The Morrisons supermarket, on the 18-acre site near the railway station, got the go-ahead by Gloucester City Council in December last year.
Plans for the railway triangle site also include new offices, shops, restaurants and a pub.
The supermarket is expected to be ready to open by early autumn next year.
Over the years, various schemes have been considered for redeveloping the site, such as plans for a snow dome, an ice rink and a new stadium for Gloucester Rugby, but all have failed.
The first phase of work costing about £8m will see the new supermarket and access road built, which will provide the infrastructure for the rest of the park.