Gloucestershire flooding residents make rescue decision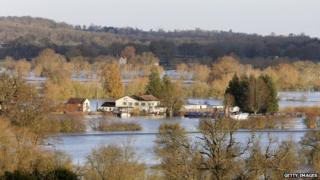 A number of Gloucestershire residents cut off by flood water have had to decide whether to be rescued or not.
Some villages in the Tewkesbury area could not be accessed because of the depth of the River Severn, according to the county's fire and rescue service.
Deputy chief fire officer Geoff Sallis said people had been given the option of being brought "into safer areas" by boat but most wanted to stay at home.
On Sunday, a number of areas in the county were badly affected by flooding.
Mr Sallis added that water pumping appliances were being used in Lydbrook, in the Forest of Dean, and Daglingworth, near Cirencester, as crews battled to minimise flooding to properties.
Water levels in the River Severn are expected to peak on Tuesday, with Tewkesbury and Maisemore particular areas of concern. Flooding by the River Avon has been described as "pretty bad".
Tewkesbury Borough Council has opened a rest centre at its council offices as a precautionary measure for anyone who might need it.
The Environment Agency has a number of flood warnings and alerts in place for rivers across the county.
Architect John Wilkes, who lives in Dursley, said the flooding was the worst he had ever seen.
"The River Seven will peak tonight and that will make things worse," he said.
'Getting worse'
"I think one of the main problems and causes of the severity of the flooding is the level of development that has taken place in the last 10 years in this area.
"The sheer amount of concrete and Tarmac here now means the water has nowhere to go, it's much, much harder for the water to run away or soak into the ground," he added.
Nathan Williams, from The Fleet pub at Twyning on the banks of the Avon, said the pub had never flooded before but they were watching the water levels rise.
He said: "We're flooded on the bottom terrace and it just keeps rising up the steps at the moment.
"We thought it was going to be bad at the weekend and then stop, but it is just getting worse and worse."
In Cirencester, BBC reporter Mark Smith described what looked like a lake outside some homes in the Spitalgate Lane area of the town.
"I have met some people who have been helping to get traffic through deep standing water, and some who have spent the night mopping up because the water came over their front door steps in South Cerney," he said.
Gloucestershire Fire and Rescue has dealt with some 180 flood and weather-related calls in the last 24 hours.
The Environment Agency said that more than 800 homes had been flooded across the UK with thousands of motorists being rescued from waterlogged roads.
Prime Minister David Cameron said on Twitter that the government "will help ensure everything is being done to help".
A number of roads across Gloucestershire have been closed by flooding with Gloucestershire Highways advising motorists to stick to higher ground and allow extra time for travel.
Jason Humm, from the agency, also urged drivers to avoid attempting to drive through flood water.
He said: "Firstly, you don't know the depth of it, secondly you don't know what's underneath it, and thirdly it creates a bow wave effect as you drive through it and that can have a knock-on effect for local watercourses or properties and businesses."