Gloucestershire flood pavement drivers reported to police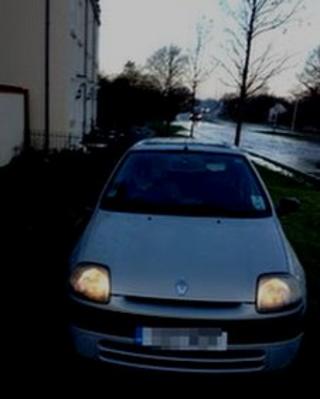 Motorists who drive on pavements to avoid floodwater are being reported to police by a community group.
The Coopers Edge Community Group warned in a tweet that photos would be taken of offenders driving on pavements and handed to the police.
In response, Gloucestershire Police said that action would be taken "against anyone caught driving in such an irresponsible manner".
Heavy rain has caused widespread travel problems across the county.
The community group described the situation at Lobleys Drive in Brockworth, which has been closed a number of times due to recent flooding, as an "absolute mess".
"People are damaging pavements, property and threatening residents," read a tweet from a spokesperson.
It had earlier said that drivers forcing their way through water were putting homes at risk of flooding caused by the wake left behind the vehicle.
Power restored
Several Environment Agency flood warnings and alerts remain in place for rivers across the county, including the rivers Severn and Frome.
John Kay, from Gloucestershire Highways, said the rain had not been as heavy as expected but a number of trees had come down because of the saturated ground and strong wind.
He said flooding had caused the closure of a number of roads around the Cotswolds, Stroud, Gloucester and the Forest of Dean.
Earlier, power to some 1,000 properties was restored after a weather-related problem on Thursday left homes in Frampton, Newent and Hartpury without electricity.
Two flood warnings have been put on the River Severn near Apperley and the Severn Ham at Tewkesbury, which the Environment Agency is monitoring.
Spokesman Dan Trewin said: "We expect that to peak this afternoon, probably rising a few more centimetres, but it is your average winter flood that we would expect and those levels have occurred about four times this year.
"Today is an improving picture as we have got very little or no rain forecast which gives things a time to drop off."
A £1.5m flood defence scheme in Gloucester was helping to protect more than 350 homes homes in the Longlevens and Elmbridge area of Gloucester from flooding.
The Horsbere Brook project has the capacity to store enough water to fill the equivalent of nearly 70 Olympic-sized swimming pools.