Gloucester Prison 'still posing risk to vulnerable inmates'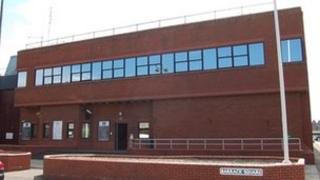 Treatment of vulnerable and segregated prisoners at a city jail still poses "significant concerns", inspectors say.
Despite being previously criticised, a report into a visit to Gloucester Prison in July, showed it seems to have "stood still".
Inspectors found further evidence those inmates suffered abuse and intimidation from other prisoners.
The National Offender Management Service (NOMS) said it recognised the inspectors' concerns.
'Cramped location'
Chief Inspector of Prisons, Nick Hardwick, said many issues and concerns previously raised at the prison still had to be addressed.
"Gloucester is one of the older establishments in the prison system, with a poor infrastructure and situated in a cramped inner-city location," he said.
"Much needs to be done to raise often basic standards, including investment in the environment and the regime."
The report added there were "significant concerns" over the treatment of both vulnerable and segregated prisoners.
It noted segregated prisoners were not continually supervised, the accommodation was among the poorest in the prison system and prisoners did not have enough time out of their cells.
"We found well over half of the population locked up during the working day, which was as high as we had seen in any prison recently and completely unacceptable," Mr Hardwick said.
"Gloucester was a prison that seemed to have stood still."
'Fundamentally safe'
Michael Spurr, from NOMS, said the governor is already looking to improve standards and address the issues raised.
"The physical environment at Gloucester clearly presents challenges to the regime but it is encouraging that there is recognition that relationships between staff and prisoners are strong and that it is a fundamentally safe prison with low levels of violence and self-harm," Mr Spurr added.
But Frances Crook, from the Howard League for Penal Reform, said the "worrying" inspection report reveals HMP Gloucester needs "urgent action to overcome major problems".
"Deep cuts to the government's prison budget will not make that work any easier.
"It is of particular concern that the number of frontline prison officers at Gloucester has fallen over the last two years.
"It is very challenging to deliver a decent service if you are cutting frontline staff," he added.
The report released on Wednesday details the unannounced inspection which was carried out between 3 and 13 July.