Paralysed Cheltenham pupil wins £23m payout after crash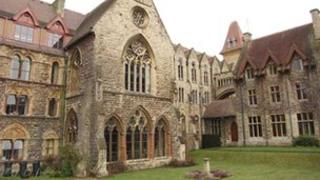 A teenager left paralysed after a car crash which killed her mother has been awarded £23m in compensation.
Agnes Collier, 17, cannot walk and has limited use of her arms following the collision on the A436 in Gloucestershire in March 2009.
Anthony Norton from Andoversford was later convicted of causing the crash.
Ms Collier's mother, 48-year-old Karen Hood, was driving the car when it was hit by an oncoming lorry after Mr Norton pulled out of a side road.
The girl's older brother also suffered a serious head injury in the crash, from which he has since recovered.
'Extraordinary'
Mr Norton pleaded guilty to causing death by driving without due care and attention and was given a six-month jail term suspended for a year, a driving ban and ordered to do unpaid community work in November 2009.
Ms Collier's father Dominic Collier, an investment banker from Naunton, near Cheltenham, and stepmother Jannene, attended hearing at the High Court for the approval of the damages award against the insurers of Mr Norton.
William Norris QC, for Ms Collier, told Mr Justice MacDuff she was a "truly remarkable young lady" and a very bright girl who had done astonishingly well since returning to school and taking her AS-levels.
Ms Collier is a pupil of Cheltenham Ladies' College.
But he said tiredness and the need for a scribe had affected her exam results and she was unlikely to achieve the university place she had hoped for.
"Her determination is extraordinary, but she has been blessed with a family who are thoroughly supportive, and her stepmother has been a tower of strength," added Mr Norris.
'Unimaginable'
Ben Browne, QC representing the insurers, said the collision was a tragedy for the family.
"It is difficult to imagine how the family was going to cope with those terrible blows coming together, but it is enormously to their credit that they have coped and managed to give Agnes a quality of life which would have been really unimaginable in the early days following this tragedy," he said.
"Mr Collier and his new wife have succeeded in rebuilding a family which was so shattered."
The family's solicitor, Paul Paxton of Stewarts Law, said the award would be made up of a £7.25m lump sum plus annual payments of £270,000.
He added: "While it is a lot of money, Agnes's needs are great and she needs those for the rest of her life. The family want to be able to move on with their lives now this chapter has closed."