Lydney awarded £44,000 for air quality surveys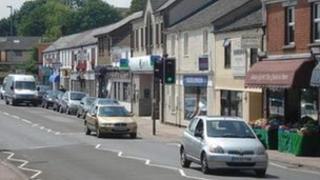 A town in the Forest of Dean with air quality issues has been given a cash grant to carry out traffic surveys.
Earlier this year, levels of nitrogen dioxide in Lydney were found to be above national safety levels.
The Forest of Dean District Council has received £44,000 from Defra to carry out traffic surveys and work up possible solutions for the town.
Environmental health officers applied for the money to help develop an Air Quality Action Plan for the area.
'Best solutions'
Councillor Martin Quaile said the authority was pleased with the amount of feedback it had received from a consultation into managing the problem of traffic emissions in High Street, Newerne Street and Bream Road.
He said: "It is wonderful news that the council has obtained this Defra funding and means detailed work can now be done with our colleagues at the county council to find the best solutions to traffic pollution problems in this area of Lydney."
Options considered during the consultation included traffic management, vehicle restrictions, improvements to public transport and promotion of cycling and walking initiatives.
The council said the funding would enable full studies to be undertaken to look at where traffic using the town centre is coming from, where it is going and why it is using it.