St John the Evangelist in Coleford to close for winter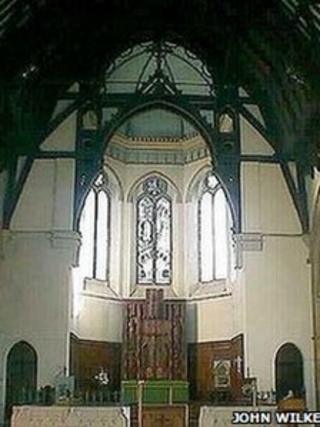 A church in the Forest of Dean is to shut through the winter because it cannot afford to pay its repair bills.
St John the Evangelist in Coleford is closing its doors until 6 April after it failed electrical safety checks.
Unable to use the building's lights or heating, the congregation has been given permission to worship at the town's Catholic church.
The Rev Sara Bick said it was a "difficult decision" but she hopes the congregation could return in April.
St John the Evangelist was built between 1878 and 1880 to replace the town's original church, of which only the tower now remains.
Last year, the Grade II-listed Victorian building was awarded £88,000 of Lottery funding to carry out "urgent repairs" to tiles, timberwork and guttering.
Safety concerns
But, according to the church, the building is still in a poor state of repair with on-going concerns about the roof, which has made it "unfit for use" through the winter months.
"We've had to put the temporary closure in place because there are concerns about the safety of the church," said Ms Bicks.
"And the PCC [Parish Church Council] made the decision not to go to the expense of making the temporary repairs whilst the entire future of the church is still under consideration.
"The temporary repairs were going to be into the thousands - and then the ultimate repair costs that we have been quoted so far are £1.8m.
"That figure is difficult for us to reach because it's only a Grade II-listed building and so getting grant money - for a purely restoration project - is very, very difficult."
The Sunday congregation will move temporarily to St Margaret Mary Roman Catholic Church in Coleford from 19 November to 6 April.